Handwriting for Heroes: Learn to Write... in Six Weeks. 3rd Ed.
978-1-932690-69-9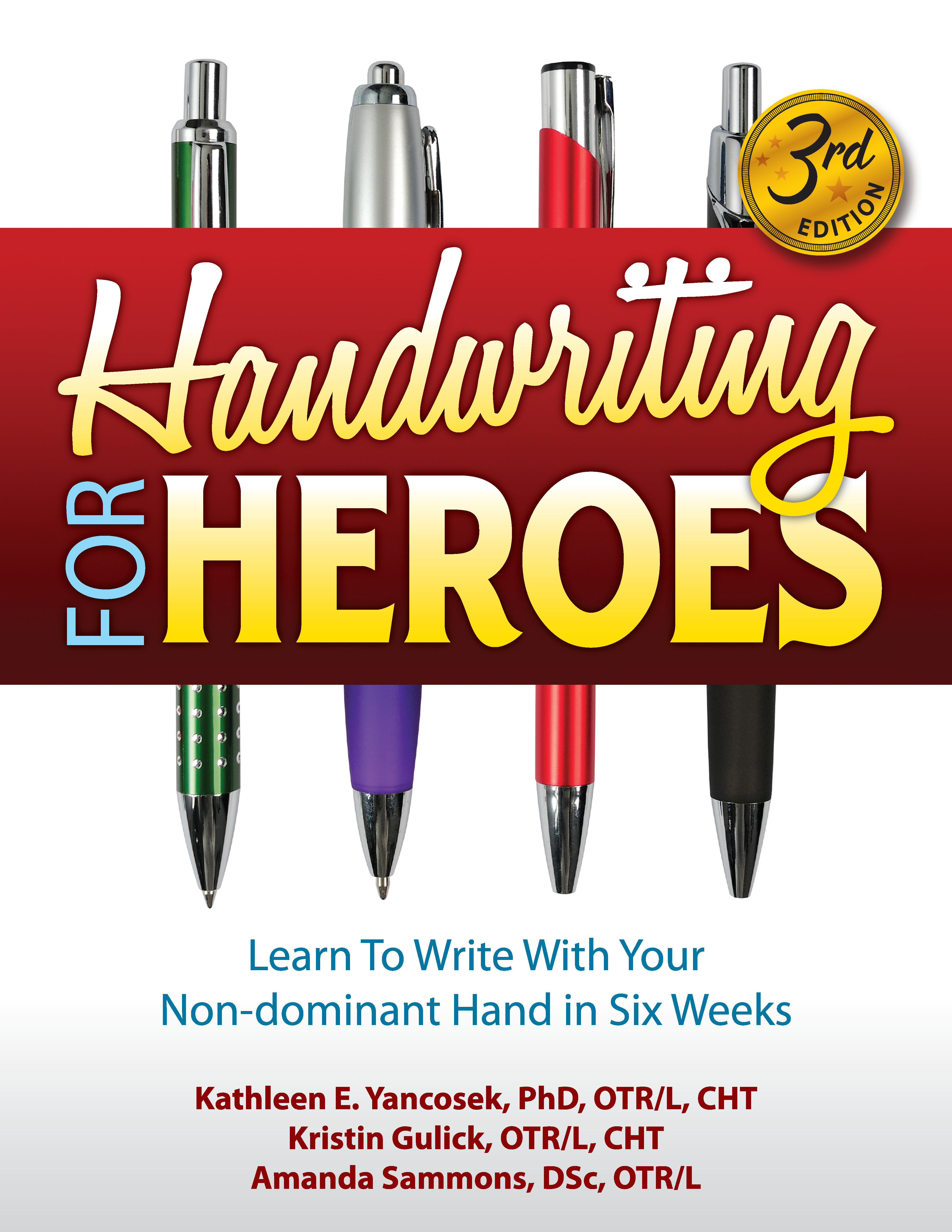 By targeting adults, this book preserves the dignity of those who must "re-learn" the basics of handwriting by providing an alternative to children's workbooks. All tasks are oriented to the adult learner. Cursive writing is easier than printing from motor and perceptual standpoints. Learning cursive writing also diminishes the challenge of having even spaces between printed letters. However,many have requested that the 3rd edition include instructions and visual demonstrations on PRINT writing. We have answered your request!

Handwriting for Heroes is a task-oriented workbook that approaches learning to write with your previously non-dominant hand through meaningful repetitions of purposeful writing tasks.
Handwriting for Heroes captures the extra-ordinary learning process of a very ordinary task: handwriting.
The methods of instruction are based on motor learning principles and the dynamic process of skill acquisition.
This is a first-of-its-kind workbook designed for adult populations who sustain injuries to their dominant hands that permanently impair dexterity functions.
Learning to write with the previously non-dominant hand can be a rewarding accomplishment along the recovery path; it is an accomplishment that leads to improved self-esteem, increased opportunities for hobbies and work occupations, and one more illustration of the adult s ability to overcome adversity.
Occupational Therapists Acclaim for the Handwriting for Heroes Method
"I used Handwriting for Heroes with all of my patients, some had lost hand function from amputation, brachial plexus injuries, stroke, or extensive soft tissue trauma to the dominant hand. All of my patients benefited and enjoyed the workbook and how it helped them return to handwriting tasks." Stephanie E. Daugherty, MS, OTR/L, CHT, Army Lt. Col. (Ret.)
"This workbook is extremely practical and functional! It is an essential tool in hand dominance retraining for the upper limb amputee." Oren S. Ganz, MOT, OTR/L
"Handwriting for Heroes is more than a workbook! It s an investment into the future performance of my patients who need to return to occupations that demand handwriting. My patients enjoy the challenge and the success of the program!" -Kristi A. Say, OTR/L
Learn more about this book at HandwritingForHeroes.com
UPC:978-1-932690-69-9
Brand:
Loving Healing Press
Binding:Paperback
Edition:3rd
Author:Kristin Gulick and Katherine Yancosek
Pages:182