Kathleen Yancosek
Kathleen ("Katie") Yancosek is originally from Kane, Pennsylvania. She lived in nine different cities before retiring from the Army in 2017 as a Lieutenant Colonel. She holds a bachelor's and a master's degree in occupational therapy and a PhD in rehabilitation science. Dr. Yancosek has co-authored 38 publications, including three book chapters. She co-authored Handwriting for Heroes, a six-week program on how to transfer hand dominance. Katie lives in San Antonio with her husband, Barry. They have two adult sons. Joshua, is serving in California with the U.S. Navy, and William is a college student at the University of Texas in Austin. Since her retirement, Katie is running a private rehabilitation practice to help people cope with neurological and behavioral health issues. In her free time she runs, reads, and writes. Grace & Mercy: A Devotional Journey was a unique partnership project between Katie and her pastor. Katie hopes this book will encourage personal growth in grace and mercy as well as bring people together around questions that matter. Katie's has two new book projects: one is a recovery workbook called Recover in Color and the other is a children's adventure book called A Tale of Two Squirrels.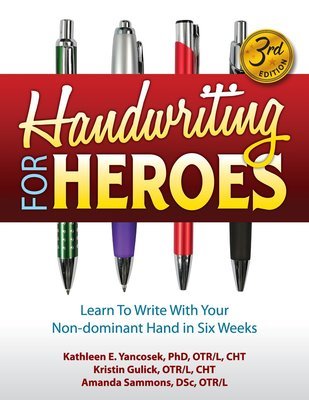 Handwriting for Heroes
Learn to Write with Your Non-Dominant Hand in Six Weeks. 3rd Ed.