Why Good People Make Bad Choices: How You Can Develop Peace of Mind Through Integrity
978-1-932690-25-5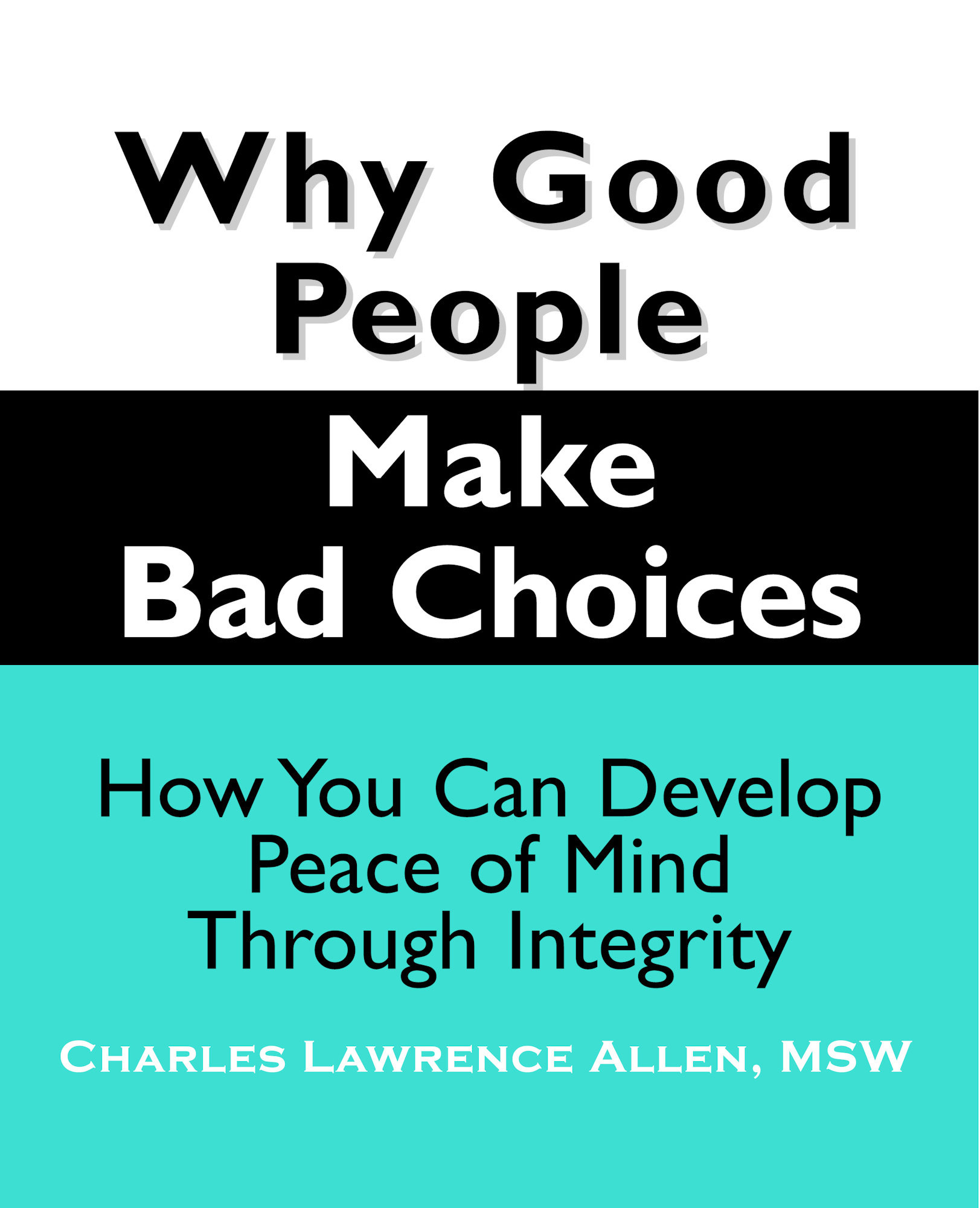 Suppose that four simple instinctual directives helped to bring about the survival of the human species. While good for survival purposes, those directives have also been at the heart of most human problems.
Why Good People Make Bad Choices takes you on a journey of self-discovery by way of new insights about the human condition. The instinctual directives we follow are described as--the ego's agenda. Due to this agenda, we experience problematic feelings, maintain maladaptive thoughts, and engage in behaviors that we know are not in our best interest--indeed, we make bad choices. The solution is integrity.
With this book you can learn how to:

Create integrity, and recognize it in others.

Create peace of mind.

Resolve problematic feelings that may interfere with sustaining integrity.

Create a self-image you can be proud of.

Transform any unwanted behavior or thoughts into new valued behavior.

Understand and manage anger, worry, guilt, bad habits, anxiety, and depression.



Why Good People Make Bad Choices is for the individual who wants to experience a more harmonious inner nature, or establish a new direction for their life.




"As you begin to consistently live out your belief system, one choice at a time, your trust in the outcome of integrity will be the incentive to continue. Positive results will prevail, and you will be evolving."


What People Are Saying About Why Good People Make Bad Choices



"I find this to be a very valuable framework for therapy, and for living a good life generally. It is a challenging book that can lead one to a new, more satisfying life."

--Robert Rich, PhD, author Cancer: A Personal Challenge.



"Why Good People Make Bad Choices is an incredible tool to aid in the transcendence of the ego and to initiate the establishment of a personal belief system in order to live life with integrity."

--Richard A. Singer Jr., psychotherapist, author Your Daily Walk with the Great Minds



"Thought-provoking and well worth the time, this book should be read once throughout and then repeatedly and in small doses. It is bound to trigger a lot of introspection, something we sorely lack in modern life."

--Sam Vaknin, author Malignant Self Love: Narcissism Revisited




More information at www.CharlesLawrenceAllen.com



From the
New Horizons in Therapy Series

Series Editor: Robert Rich, Ph.D.

Published by Loving Healing Press (www.LovingHealing.com)

UPC:978-1-932690-25-5
Brand:
Loving Healing Press